Vincent Boucher | President of MONTRÉAL.AI and QUÉBEC.AI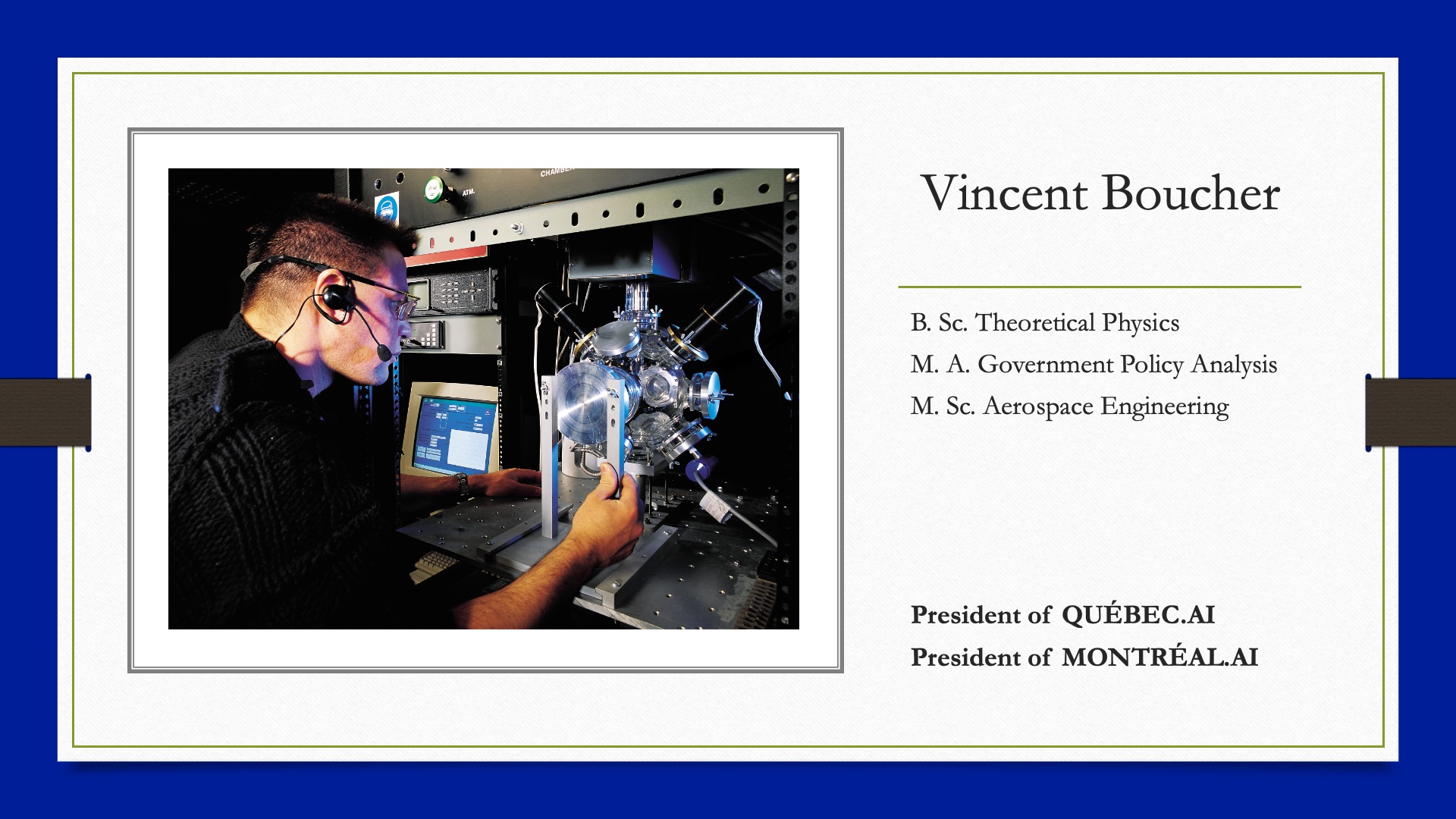 Who do you turn to if you seek out the very best in AI and Leadership?
In 2003, Vincent Boucher founded MONTRÉAL.AI and QUÉBEC.AI. MONTRÉAL.AI, a research company at the forefront of the AI field, is developing the most significant technology, ever. QUÉBEC.AI is the most ambitious project in Quebec history : QUÉBEC.AI aims to make Québec the world leader in AI by 2030.
"In a moment of technological disruption, leadership matters." — Andrew Ng
High Financier Vincent Boucher challenges limiting beliefs regarding the possibilities of our future.
UPCOMING EVENTS
---
AI 101 Webinar: For the Newcomers to Artificial Intelligence
On Sat, 9 May 2020 | 10:00 AM – 11:30 AM EDT, the General Secretariat of MONTREAL.AI will present: "AI 101 Webinar: The First World-Class Overview of AI for the General Public".
AI 101 Webinar: Buy Tickets on Eventbrite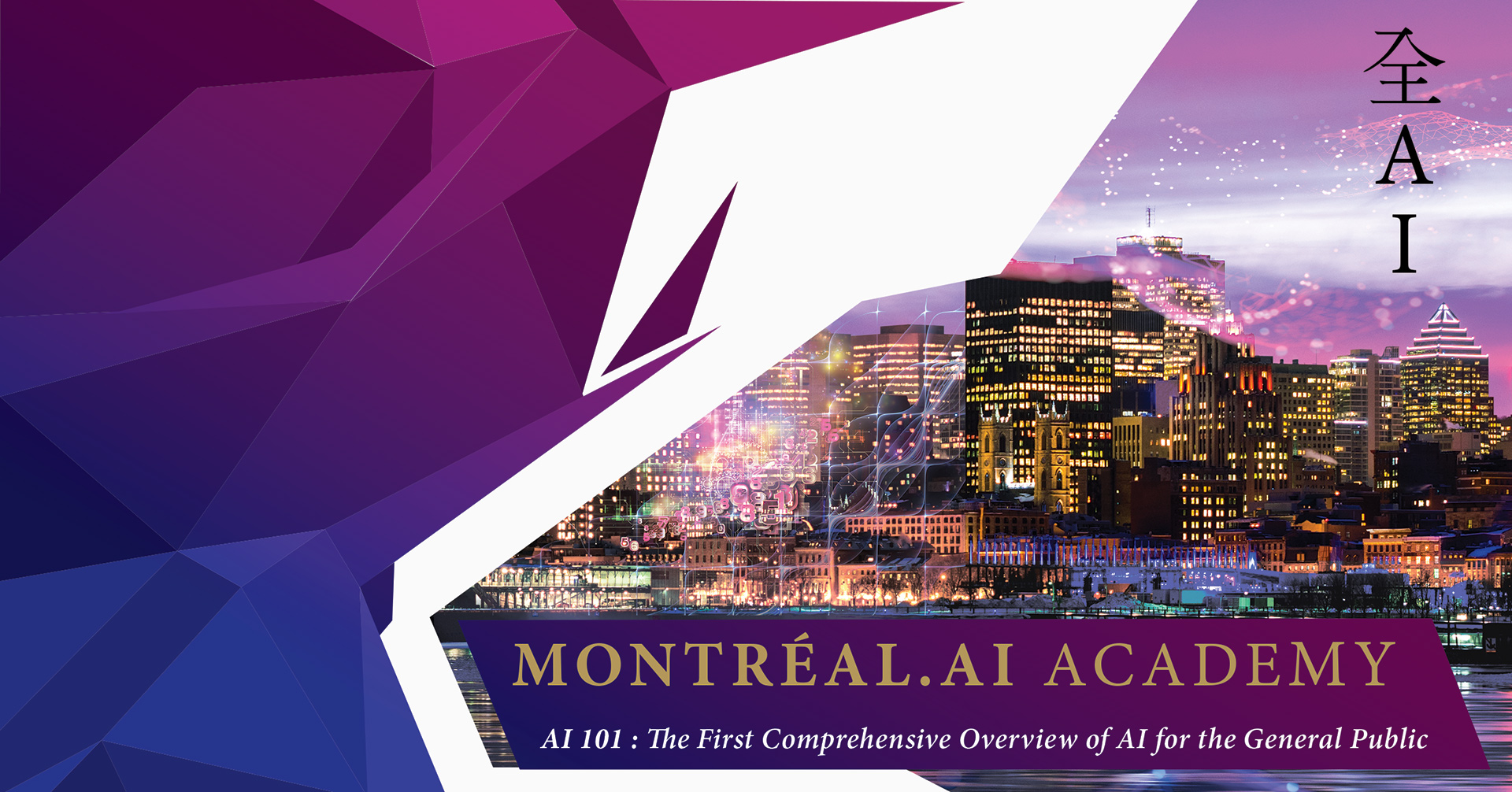 Language: Tutorial (webinar) given in English.
"The best way to predict the future is to invent it." — Alan Kay
Location: This is an online event. This is a live streamed webinar with interaction with and among students. Attendees will receive instructions on how to access the live stream just prior to the event.
---
Québec AI Symposium
Stimulating the Economic Activity, Research and Innovation in Artificial Intelligence in Quebec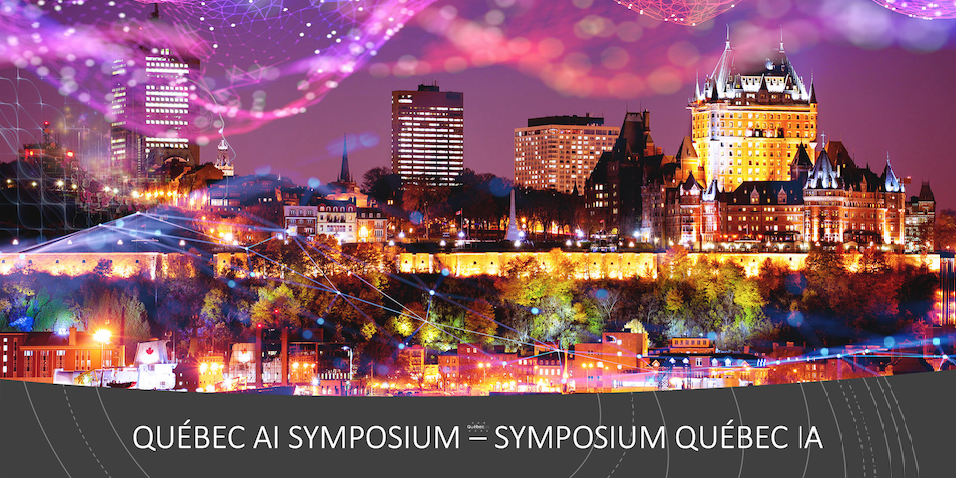 Website | Tickets: http://quebecaisymposium.com.
Date And Time: Wed, October 7, 2020 | 9:30 AM – 8:30 PM EDT
The Québec AI Symposium is administered by MONTREAL.AI and QUEBEC.AI.
---
---
CURRENT PUBLIC PROJECTS
Saraswati AI | Superhuman (AI) Teacher: All of Education, for All
Significance: Solving UNESCO's Educational Objectives to Support the Achievement of Education for All.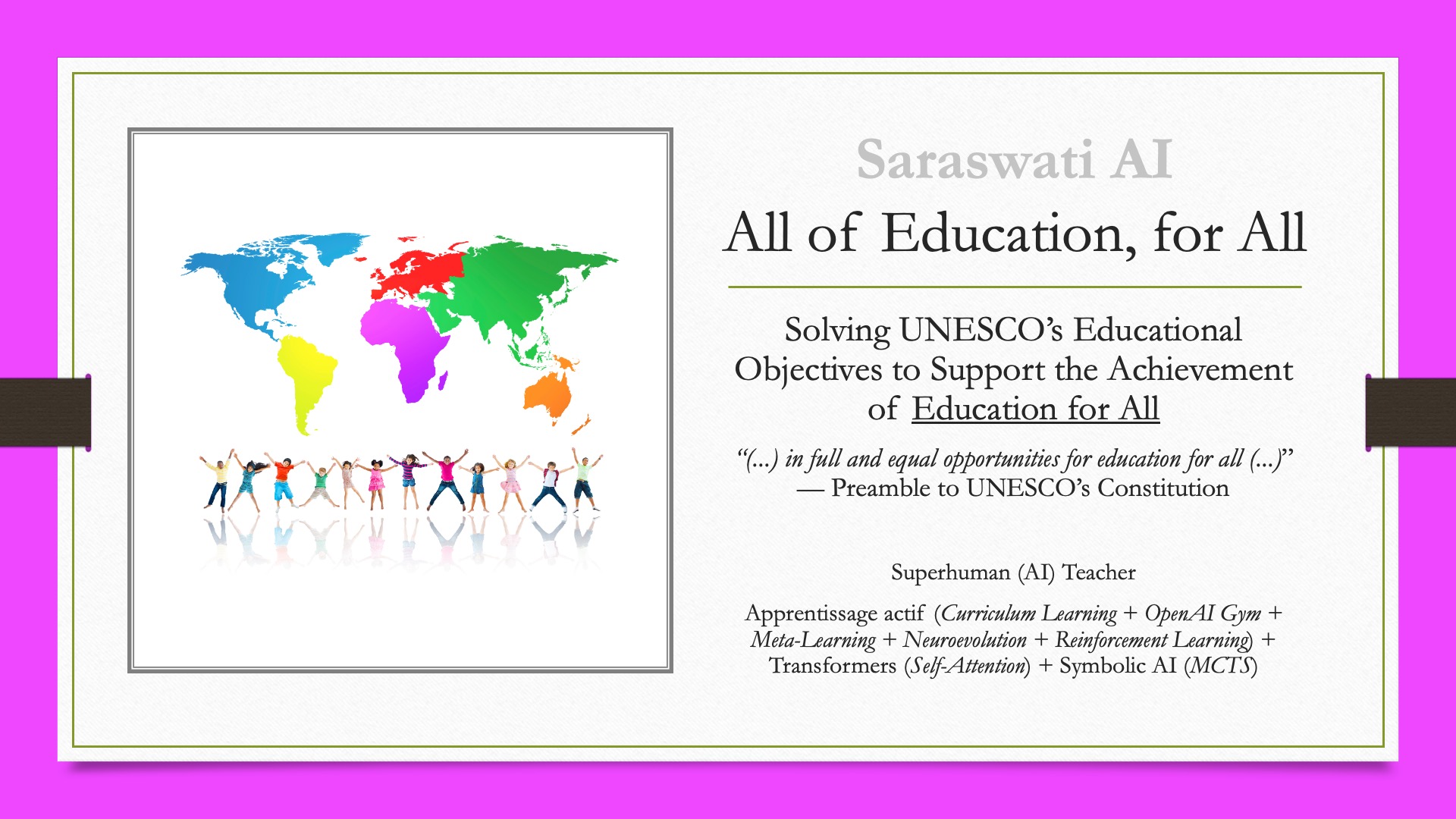 Impact of the contribution: Implementation of artificial intelligence learning tools that significantly improve access and quality of education for disadvantaged and marginalized populations. Beneficiaries: 100 million people.
Project: https://intelligencefoundation.github.io/#Saraswati-AI-Superhuman-AI-Teacher-All-of-Education-for-All
---
---
GREAT READINGS
VIP AI 101 CheatSheet for All
For the purpose of entrusting all sentient beings with powerful AI tools to learn, deploy and scale AI in order to enhance their prosperity, to settle planetary-scale problems and to inspire those who, with AI, will shape the 21st Century, Montréal.AI introduces the "VIP AI 101 CheatSheet for All".
---
---
A LEGENDARY HISTORY

Learn the Source of an Exceptional Legacy
Born in July 1973 in Québec City, Québec, Canada.
A frail kid raised by youth centers and social welfare families (Sept. 8, 1981 – June 21, 1991) (photo before), Vincent Boucher has done his 1st grade twice as well as his seventh grade. Until age 14, he faced a nightmare. In 1988, he found in a recycling bin a book quoting William James. At this moment, he decided to change his life.
«To change one's life: Start immediately. Do it flamboyantly. No exceptions.». – William James
In 1993, Vincent Boucher took only 29 minutes to win, with the first 100 % score ever, the Ordre des chimiste du Québec competition. In 1996, he completed a B. Sc. Theoretical Physics in 1 year (cont.), followed by a Master's degree in Government Policy Analysis (1998) and a Master's degree in Aerospace Engineering (2000).
From 2000 to 2002, he provided management consulting for the Canadian Space Agency.
In 2003, Vincent Boucher created the Intelligence Foundation.
«Financier (Vincent Boucher) acquires world's rarest stone.». – Mike King, The Gazette
Also in 2003, Vincent Boucher founded MONTRÉAL.AI and QUÉBEC.AI.
(In 2016, Vincent Boucher (username: ceobillionaire) generally ranked first worldwide on the OpenAI Gym.)
---
---
GET INVOLVED
MONTRÉAL.AI Volunteers Squad
MONTREAL.AI is also the largest AI community in Canada. Join our volunteer squad!
✉️ MONTRÉAL.AI Volunteers Squad: secretariat@montreal.ai
---
Erudition, Culture and Growth : We are now bringing a new volunteer culture to life.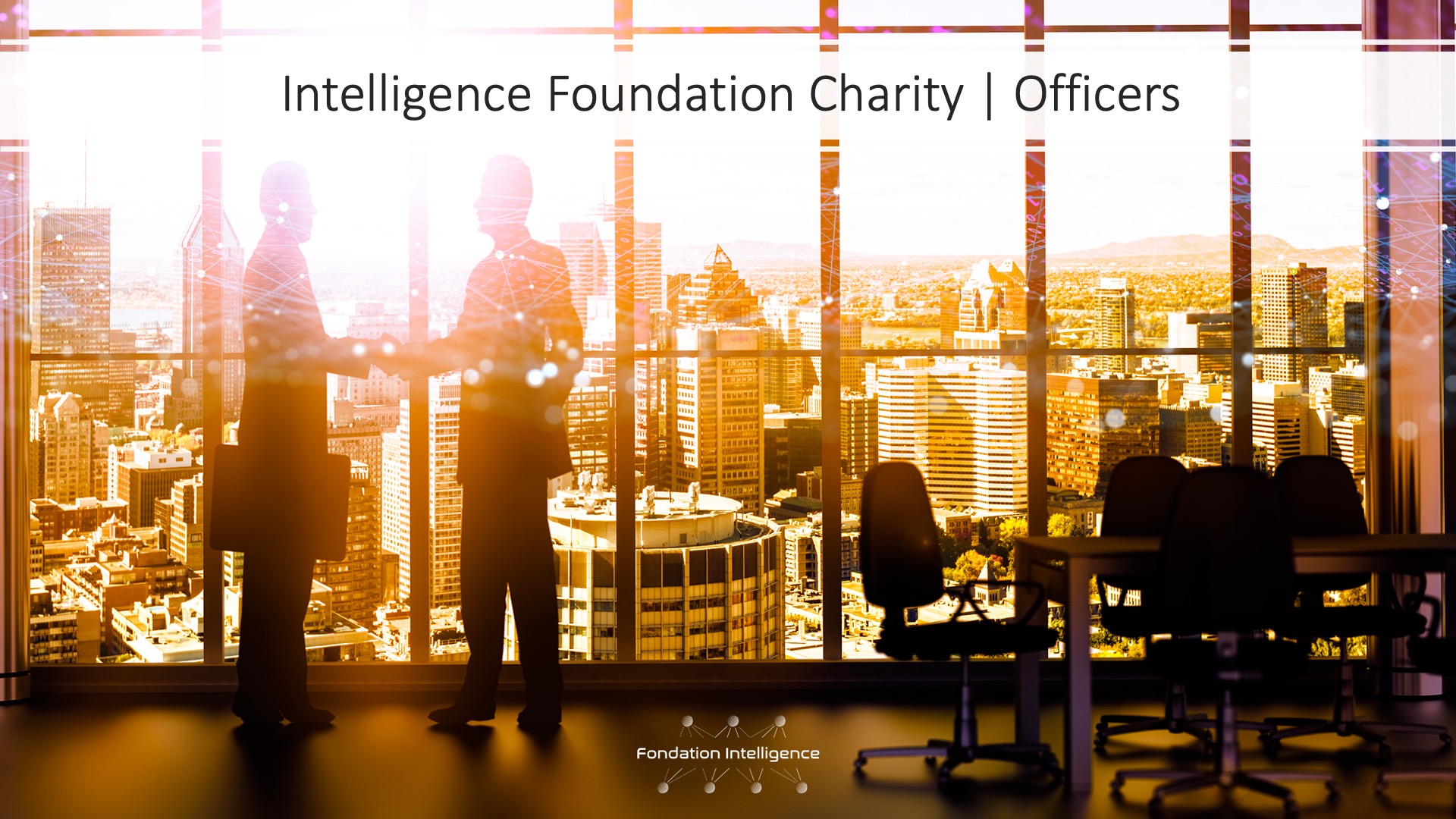 Officers have the privilege of taking part in festive and promotional events.
✉️ Officers of the Intelligence Foundation: officers@intelligencefoundation.org
---
---
CONTACT INFORMATION
To contact Vincent Boucher
✉️ Email : vincent.boucher@vincentboucher.com
📞 Telephone : +1.514.829.8269
🏛 General Secretariat of Vincent Boucher : 350, PRINCE-ARTHUR STREET W., SUITE #2105, MONTREAL [QC], CANADA, H2X 3R4 *Administrative Head Office and Executive Counsel
---
---
LEGAL NOTICE
MATERIALS PROVIDED IN THIS SYSTEM ARE PROVIDED WITHOUT WARRANTY OF ANY KIND AND DOES NOT CONSTITUTE ENDORSEMENT.